New speaker (concrete sub) project
This is to go with my current main DIY speakers.
My intention was to add a dedicated bass speaker to each of the stereo speakers, crossing over somewhere below 100Hz. I had a look at cross over value options and the simplest I could work out crossed over at 75Hz. I bought the necessary capacitors and inductors for each.
But I'm so happy with the DIY Monacors as they are I don't think that an additional bass section for each is necessary, or desirable, in my lounge.
However, as I say, I'd already bought some of the components for the crossover. And who doesn't want the option of occasional extra bass...?
So I have decided to have a complete experiment and build a single subwoofer.
I chose a driver with a double voice coil so that it can be fed directly (though via suitable crossovers) by both channels of my One4 amp.
Also, as the pricey caps and inductors I already had were chosen on the basis of my using 8 ohm drivers, my options were a little limited (most dual voice coil subs are 4 ohms per coil). To the rescue Dayton Audio's SD315A-88 12 inch DVC subwoofer.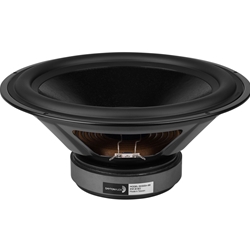 I'm currently awaiting its delivery from the US.
In the meantime on with the crossovers.
Check out those enormous inductors! (Ignore the shabby MDF cases. Shameful.)
The red and black cables will feed the sub. The other sets will go to the inputs of the 2 stereo Monacor speakers.
Also, have got busy with the cabinet.
Now I'm hoping this will be interesting. Possibly laughable.
There was a thread on here recently about using a sandwich approach to cabinet walls. Two 9mm sheets of ply separated by a layer of some sort of squishy glue. I wanted to try that using the workshop available at art college. But, due to the necessary covid restrictions there I have deferred my 2nd year. I don't have the tools at home for complicated carpentry.
I am able to build a basic (but carefully calculated) cab using MDF. Which I have done.
But I liked the idea of trying sandwich cabinet walls.
And, I was happy with the effects of painting the inside walls of my DIY Monacor cabs with bitumen paint.
So a new idea has been hatched...
I am pouring a 2mm depth of bitumen paint on to the inside walls of the cabinet as the sandwich filling. Easy enough. (I knew that old turntable spirit level would come in handy!) It is taking ages to dry. But I'm in no rush.
I'll need to fix the front baffle before adding the bitumen to any of the other inner surfaces.
Of course, once dry I am going to need to add the second, inner piece of bread of the sandwich.
Not ply or MDF though. Oh no.
Instead, I am going to pour in 3mm of floor self-levelling compound over the bitumen to act as the inner bread.
I've used floor leveller before in its more conventional application. It's e easy to use, very good at self-levelling, fast setting and extremely durable (down to 3mm depth). This may be quite a heavy piece!