My Royd RR3 clones
My project to convert my Royd Merlins ( bookshelf version of Minstrels ) to clone RR3's is complete !
As I mentioned in my previous thread I bought an extra couple of RR1 drivers from Phil at Phonography and sourced replacement RR3 tweeters to put into the empty Merlin cases. The Merlin cabinet is basically the same size as the Sorcerer into which Joe Ackroyd fitted RR2 drivers for the later SE version just before he released the Revelation series in early 2000's.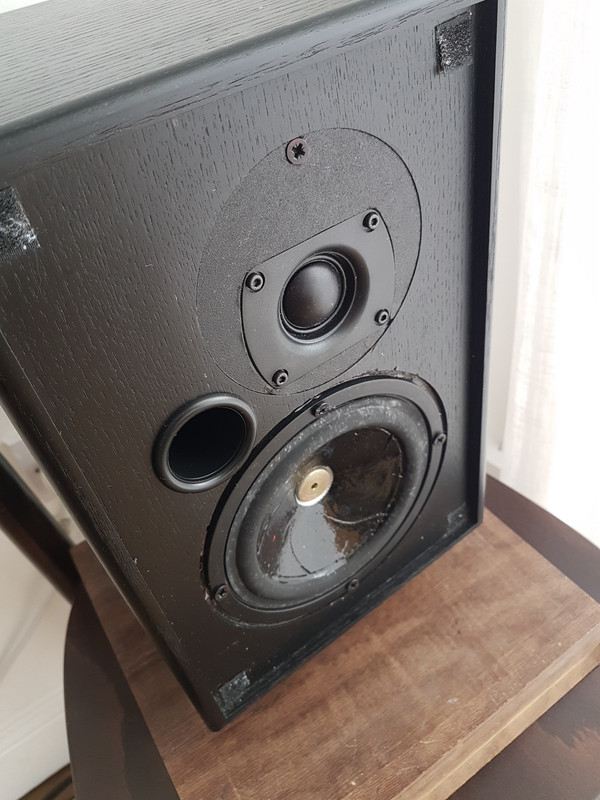 The RR3 replacement tweeters were fixed into the existing tweeter cut out using a homemade wooden bracket and the gap covered with a surround ( allowing me to revert back to th
e original tweeter if need be ). The RR1 drivers simply slotted straight in with no mods needed. 4mm steel plate pieces were glued in so as to line as much of the inside of the cabinets as I could given that I could only get 110mm pieces in through the driver cut out. ( Joe Ackroyd also did this in the RR3 to add rigidity to the whole structure ) The Merlin crossover for what it is looks quite similar to the RR3 so I left this in place. Of course the RR3 driver and tweeter were matched and voiced specifically by Joe Ackroyd but my RR1 driver is pretty close and my ears are probably not good enough to hear the difference anyway.
The result - very chuffed as I feel they are on a par with the RR1's even dare I say slightly better. They have a bit more body and substance full bodied if you like compared to the more medium weight RR1's. The top end is definitely smoother and more fluid than the RR1 which has a smaller polyester tweeter. Colin's amps definitely like Royds and help keep enough of the life and vitality of the original Merlins. Likewise all the Wonfor dynamics and bass are there in bucket loads. Being brand new doped drivers they are taking time to bed in but are getting better each day with a more even and balanced sound.
ps can't get image to display !